Ray Fox
Northern Ontario based Anishinaabe Visual Artist, Ray Fox, works with a variety of themes in his practice such as memory, cultural and geographic identity, relationship to land, animals, and plant life. He started drawing as a child, raised within a family of many other Manitoulin Island-based Visual Artists. He graduated from the BealART program in London, Ontario. He then went on to study Drawing and Painting at OCAD University in Toronto, Ontario. Since moving back to Northern Ontario, he has been mainly producing work with graphite and charcoal drawings. Painting and printmaking is also part of his practise.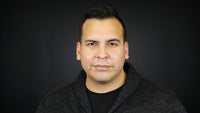 Ray Fox Art Gallery
Below are some recent drawings created by Ray Fox
Original Drawings and Limited Edition Prints
"In Anishinaabe Culture, Artists are valued as storytellers. It is very important to me and to my work as an Anishinaabe artist to keep stories alive. My Drawings are inspired by the history of passed relatives, old family photographs, childhood memories, and the creation stories of wildlife animals which, to Anishinaabe people, are considered extensions of family, and whose stories are much older than ours"